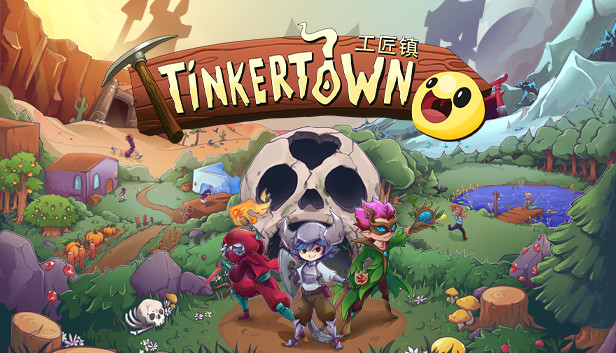 "Tinkertown is a refreshing new multiplayer sandbox experience with up to 3 friends. It has a huge map to explore with a diversity of crafting resources and enemies. Be sure to travel around!"
Bottled Tastes Steam Curator
Tinkertown is published and developed by Headup Games.
Headup is a hybrid games publishing and development company providing players worldwide with the best content in the independent gaming sector.

Established in 2009, it is active on all major platforms such as consoles, mobile devices, and PC, and was awarded as "Best Publisher" at the German Developers Awards in 2012, 2013, 2017 and 2019. With over 80 million customers served on mobile and further several million players on the PC and consoles, Headup is always looking to raise awareness and commercial success for developers thinking outside the box.

Tinkertown is in its early access phase at the moment and can be downloaded via Steam.
Collect resources with your trustworthy pickaxe and axe to build your own dream village and upgrade your gear.

While the surface world is rather peaceful, only the most courageous explorers will enter the sinister dungeons underneath and defeat the horrors that live below.
For accessibility Options Tinkertown does have a screen shake setting, but next to that has no accessibility settings like colorblind mode and button remapping available at the moment, however, if you do have any feedback on the game, be sure to either visit them on Discord or let them know via Twitter.